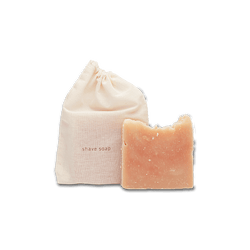 well kept citrus shave soap
This delicious citrus shave soap creates a light lather and, when used with the well kept razor, provides a smooth shave – leaving skin nourished and lightly scented. 
Lather onto desired area before shaving and then rinse.
Recommended For: A super nourishing shave soap for all skin types.
We've been friends for ages, and a few years ago were both adjusting the products we use and consume trying to align them with our values. We were looking for simple products, with natural ingredients and appealing aesthetics and got stuck on not being able to find an alternative for plastic, baby blue razors. After a lot of research and product testing, we decided to create well kept to provide a superior, more sustainable alternative for women's shaving.
We want to create a space where women can not only give themselves the time to enjoy shaving with natural, sustainable, quality products, but also to speak openly about – leg hair, armpit hair, 'self-care' myths, plastic waste, cosmetic industry ingredients – things that don't always meet the norms of the beauty industry.
Creating a community has been one of the most rewarding parts of this process – welcome to our community!
Emilie & Natalie
Vancouver, Canada
Sodium Olivate, Sodium Cocoate, Sodium Castorate, Sodium Cocoa Butterate, Sodium Shea Butterate, Beeswax, Chamomile Flower, Lemon Oil, Lemongrass Oil, Grapefruit Oil, Lime Oil, Bergamot Oil, Orange Peel Oil, Tangerine Oil
Customer Reviews
09/02/2023
Alyssa F.

Canada
Will buy again
Smells fantastic, lathers well, and all I need for shaving