THOYA Laboratoire Moisturizing Baby Oil
Hypoallergenic. Fragrance Free. 100% Natural Origin. Dermatologist Tested.
The THOYA Laboratoire  Moisturizing Baby Oil is a hypoallergenic and dermatologist-tested baby oil that moisturizes and soothes your child's dry skin. Enriched with vitamin E, this lightweight formula developed with moisturizing coconut oil, high-linoleic sunflower-seed oil, and nourishing grape-seed oil moisturizes and soothes your child's sensitive skin. Perfect for massage and dry skin.
100 ML
FEATURES 
Hypoallergenic. Fragrance Free. Not Irritant. Dermatologist Tested. 100% Natural Origin. Vegan.
Formulated without Harmful Ingredients.
NO added fragrance. Essential-oil free. Preservative free. Paraben free.  Phthalate free. Alcohol free. Silicone free. Never tested on animals. Package recyclable
BENEFITS
The elasticity and texture of chapped skin is significantly improved. 
KEYS INGREDIENTS 
GRAPESEED OIL (Vitis Vinifera): Rich in phenols, linoleic fatty acid and vitamins (vitamin E, vitamin C). 
ORGANIC COCONUT OIL (Cocos Nucifera): Moisturizer for the skin, emollient and softener. 
 ORGANIC SUNFLOWER OIL (Helianthus Annuus): Softening and moisturizing properties. Rich in vitamin E and linoleic fatty acid.  Effective to strengthen the natural functions of the cutaneous moisture barrier.
Full Ingredients List:
Coco-Caprylate/Caprate [1], Dicaprylyl Carbonate [1], Helianthus Annuus (Sunflower) Seed Oil [1]*, Cocos Nucifera (Coconut) Oil [1]*, Vitis Vinifera (Grape) Seed Oil [1], Tocopherol (Vitamin E) [1], Beta-Sitosterol [1], Squalene [1]**.
 *Certified Organic.
** Vegan.
100% Natural-Origin Ingredients. 
[] indicate ingredients' safety rating from 1 to 10 (1-2 = safest)  according to "The Environmental Working Group's Skin Deep, http://www.EWG.org/SkinDeep".
Gently massage oil onto body or dry scalp, ideally when skin is still damp to seal in hydration. A few drops can also be added to the bath water for smoother skin. Apply on any dry spot on a baby.
Discover a new generation of natural mineral sunscreens and hypoallergenic skin care that protect, nourish, and regenerate fragilized skin exposed to harmful environmental factors. THOYA Laboratoire formulations combine the latest scientific advances with nature's powerful restorative ingredients. 
All formulations are designed with potent 100% natural-origin ingredients that have been scientifically and clinically studied for their effectiveness, properties, and safety. Every ingredient is thoughtfully researched and all controversial, harmful, or toxic substances are excluded from our products. Our products are clinically tested under dermatological control, fragrance free, hypoallergenic, and not irritant. 
THOYA Laboratoire skin care is available in clinics and spas in Canada.
About our Founder 
Preoccupied by both the harmful environmental factors and the large amount of chemicals in everyday skincare, Elizabeth Hartinger, Ph.D., M.Sc.A, B. Ing. founded THOYA Laboratoire as a commitment to develop a new generation of hypoallergenic professional skin care with highly effective, carefully selected, safe, all natural origin, and organic ingredients.
​
Elizabeth is committed to cutting-edge skin research and has acquired over the years extensive experience in dermatological technologies. Her postdoctoral studies were conducted at Harvard University and Massachusetts General Hospital in Boston, USA, where she worked on a novel laser technology in the field of dermatology and skin cancer. Elizabeth completed a doctoral and a master degree in biomedical engineering at Montreal University/Ecole Polytechnique in Montreal, Canada. While pursuing graduate studies, she developed an innovative technology for skin cancer detection and acquired comprehensive knowledge of the skin and cutaneous pathologies.
At THOYA Laboratoire, researchers are committed to work on next-generation products designed to protect, maintain and optimize the health of the skin. 
Standards and Eco-Values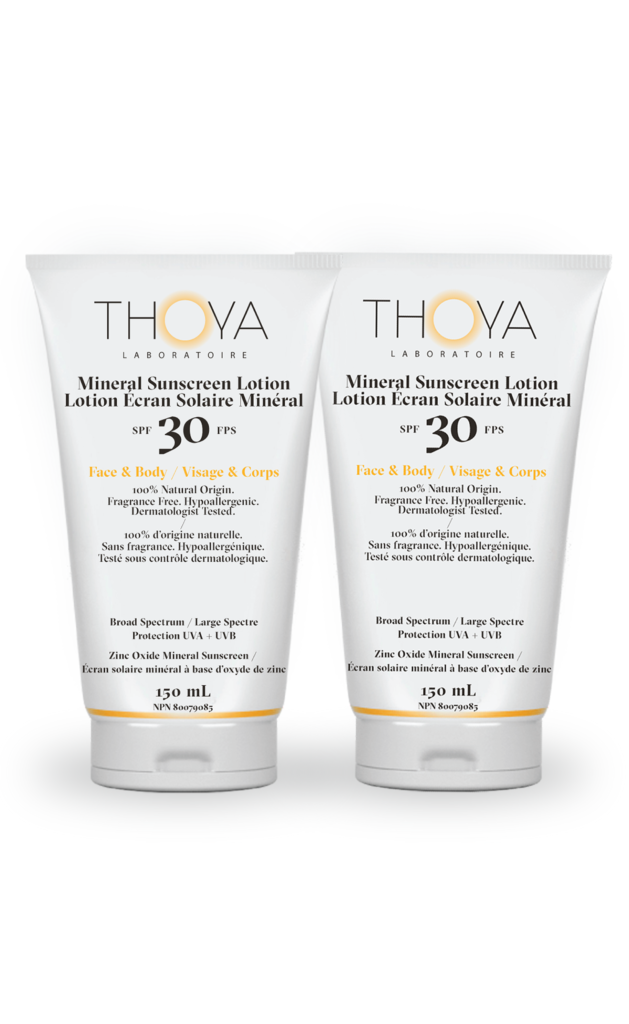 DERMATOLOGIST AND CLINICALLY TESTED
All products are all clinically tested, dermatologist tested, fragrance free, hypoallergenic, and not irritant.
HEALTH CANADA APPROVED
All sunscreens are rigorously tested by independent laboratories according to strict regulatory standards and are all approved by Health Canada.
CLEAN 100% NATURAL-ORIGIN INGREDIENTS
THOYA Laboratoire products are formulated with safe and highly effective natural-origin, and certified organic ingredients.
All skin care is also essential-oil free, non-nano, fragrance free, sodium-lauryl-sulfate free, titanium-dioxide free, phthalate free, mineral-oil free, aluminum free, silicone free, and paraben free.
NOT ANIMAL TESTED 
All formulations are vegan and never tested on animals.
SUSTAINABLE PRACTICES
THOYA Laboratoire skin care is made in Canada and implements sustainable practices.  All packaging is made of recyclable material and we always prioritize local and high quality ingredients. All formulations are locally developed, tested, and manufactured to minimize our ecological footprint.