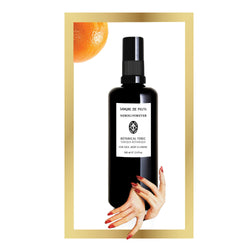 Sangre de Fruta Botanical Tonic Neroli Forever
For Face, Body and Linens
Neroli Forever contains the  orange blossom oil, which has an uplifting effect and is helpful to relax the minds. Excellent for all skin types, it is particularly beneficial for sensitive, dry, mature skin as it aids in preserving the elasticity. Neroli has a scent that oscillates between rose and citrus, whilst reaching a light oriental tone.
Sangre de Fruta Botanical Tonics are made with the finest essential oils to bring freshness of well-being to your skin, body and spirit. All essential oils have been chosen for their  aromatherapy properties, their sensual fragrance, and their beautifying effect on the skin. Whether misting your face, linens, or your lover, Sangre de Fruta Botanical Tonics offer simple, sensual tonics for a kaleidoscope of moments.
CARE: Shake before each use and keep out of high heat or direct sunlight. Use within 4 months of opening for best results. 
100 mL / 3.4 oz
Organic / Vegan / Gluten Free / Cruelty Free / GMO Free, No Synthetics, No Fillers, No Fragrance and No Preservatives. Made in small batches in Bowen Island, B.C. Canada
All Sangre de Fruta Botanical products are made by hand on Bowen Island, BC and comprised of water-free formulations made of locally sourced, organic and wild-crafted plant-based ingredients. They are free of harmful ingredients, full of active botanical ingredients and never tested on animals.

Bowen Island-based Allison Audrey Weldon whips oils, plant butters, and botanicals into exquisite scents, not to mention supremely appealing textures, creating some of the most beautiful skin and body care out there.
Her gift for unexpected scent juxtapositions—vetiver with florals, chamomile and anise, an almost-salty lavender-by-the-sea—has its roots in the garden and the natural world, with quietly spectacular results.