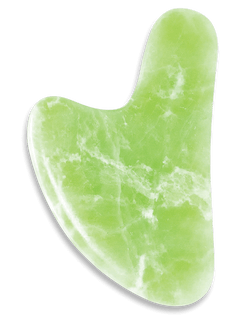 Happy Heart Shaped Gua Sha ~ Jade
For glowing skin make this Jade beauty a part of your daily skincare ritual!

Dating back thousands  of years, the Gua Sha was used by the upper echelons of ancient Chinese  dynasties. Happy's specific Gua Sha shape perfectly traces the curves of your face and neck to increase blood circulation, sculpt  and smooth your delicate skin resulting in firmer skin tone and a youthful glowing complexion. 
The Gua Sha is a beauty tool traditionally used in Chinese Medicine to reduce signs of aging and to provide relief from pain and lymphatic blockage. This technique focuses on a deeper facial massage to help firm the look of skin, increase blood circulation, and reduce swelling and inflammation.
Gua Sha can reduce muscle and jaw tension and can help improve overall health and wellbeing while helping your skin absorb topical creams, lotions, and serums.
Jade symbolizes grace, beauty and health in Chinese culture and is believed to balance your sense of well being.
Beauty from within...
Jennifer Uy was inspired by her grandmother's daily rituals and founded and developed Happy products as a means of respecting the art and principles of Traditional Chinese Medicine (TCM) while bringing in today's technology to produce a professional grade facial rolling experience. You can see her story and how to successfully use her facial tools in her interview with Andrea Donsky below (did you know she was an opera singer in a former life?):
Or skip to your favourite sections or specific questions by using the following links:
00:34 What is a jade roller 1:26 What is it used for and what are the benefits 2:29 How to use it 6:50 How to reduce wrinkles 7:13 How long and when should we use it 8:52 How much do they cost 9:20 What should we look for when it comes to quality 12:34 What are the benefits of genuine stone 14:23 How to clean your jade roller 15:50 Just to listen to Jennifer's beautiful voice!